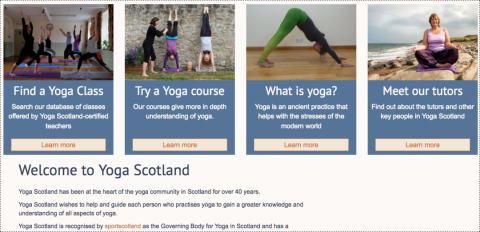 At a glance
What is it?
An information website for Members with integrated class search
Yoga Scotland is the official governing body for yoga in Scotland, offering class listings, training and certification for yoga instructors, as well as other activities for people interested in learning more about yoga.  Over the years, their original Wordpress website became less fit for purpose and harder to maintain, and they lacked the expertise to manage their own hosting effectively.
AlbanyWeb offered a package to update their website, incorporating an improved version of our Threads of Yoga class search database.  The package included a complete redesign, plus added benefits for Members, including:
membership renewal online, including prompts to renew.
secure, and limited access to member data, removing the need to store data on a series of spreadsheets.
Members could access and edit their own information, and, if their membership was up to date, add and edit their own class information.
automated listings of yoga events, professional training opportunities, and longer term courses.
The new website, launched in time for the new Membership drive in September 2018, has allowed Yoga Scotland to reduce time spent on repetitive administration, and has also given members greater control over their own information.  The new website features our easy-to-use, non-technical interface, which we customised to suit the needs of Yoga Scotland members.  2019 will see new features launched for Members, including online registration for events, online recording of Continuous Professional Training, and automated newsletters and reminders.