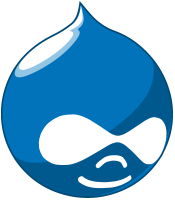 AlbanyWeb Ltd choose to use Drupal, a popular open source Content Management System, after spending some time investigating several options.  We use Drupal because it is very flexible, and has a large and well-established developer and support community.  We also like the very efficient integration with other software applications, and the way it works in semantic markup very easily.  This is the kind of 'under the hood' quality that we always look for, so as to give AlbanyWeb customers the best quality websites that we can.
You can learn more about Drupal CMS from the Drupal website.
AlbanyWeb Contribution
Many people are surprised to learn that Drupal is free software, developed collaboratively by the community of users.  It's a model that works, and works well.  It means that Drupal quickly adapts to have the features that the community needs.  What's more everything is open and free from licensing restrictions, so that if we find a bug that no one else has fixed yet, we can fix it ourselves.  Plus of course, free software saves our customers from paying license fees!
AlbanyWeb Director Adam Shepherd is the maintainer for two Drupal modules.
RRSSB (which stands for Ridiculously Responsive Social Sharing Buttons!) makes it easy to add social sharing buttons to websites.  This module uses SVG images and clever scripts to make a responsive button that looks good on any screen size.  Adam has added several new features and increased the responsiveness of the original module, and his version "RRSSB+" is used on all our AlbanyWeb sites.  See our RRSSB+ demo page.
"Administer Users by Role" allows us (the 'administrator') to grant our customers (the 'editor') the ability to create and manage user accounts for site members.  However it protects the editor from making critical mistakes such as deleting important accounts, or granting members unwanted rights to mess up the site.
What is a Content Management System?
A Content Management System (or CMS for short) is a special kind of website software that makes it easier for people to add and control their content without special technical knowledge.  The software manages all of the CSS, HTML and other scripting languages, and lets the content (the actual words and pictures) be controlled by some pretty straightforward forms.  These forms are actually part of the website itself, so that you do not have to work on a copy and then upload it to the website.  We think that using a CMS to manage your website is a no-brainer.
What do you mean by 'open source'?
Open Source software refers to a licensing and programming model that allows people to more easily share knowledge and techniques.  If a software is open source, it means that the core programming is available for anyone to see.  This makes it easier for other programmers to create extra features or modules that maybe the original developers haven't thought of, or don't have time to create themselves.  Under an open source license, anyone who uses open source software has to also make their code available to other developers.  You can read the detailed definition of 'open source' from the Open Source Initiative website.
What is semantic markup?
Semantic markup is part of the next generation of website development.  A semantic website is one that has additional code to make the website easier to categorise by machines, like search engine spiders.  This makes it easier to find, combine and share specific types of information more easily.  Google and other search engines already use semantic markup for creating specialised search results such as cinema or class listings.  Not all our AlbanyWeb customers make use of semantic markup; however, the facility is built into all our AlbanyWeb websites as part of our drive for quality.