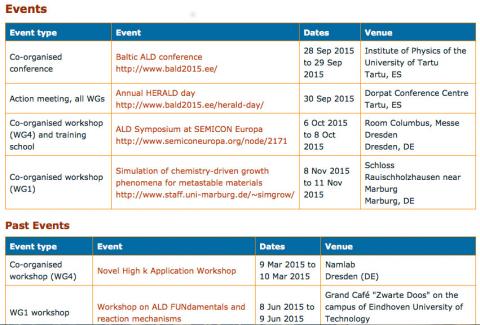 Our COST Action website package by AlbanyWeb offers your team a stable, highly-secure, platform that is easy to use, and easy to customise.  
In our hosted website package, we offer a fully functional public-facing website, with extra tools to help you organise your group and publicise your activities.  Updating is easy.  Creating it is hassle-free.  Let us remove the effort of creating a website, so you can concentrate on the core activities of your COST Action.  AlbanyWeb's COST Action packages are compliant with visual identity and branding guidelines issued by COST.
(sample event and member formatting for COST Actions)
Inclusive COST Action package
AlbanyWeb's COST Action website package offers all the elements you need to have a functioning and fit-for-purpose website at a fixed cost.
If you have other features you would like to add, don't hesitate to ask.  Our websites are easy to customise to suit your exact requirements.
Why choose AlbanyWeb?
Here are some of the things that we do to make it easy to manage your website:
View some of our COST Action websites
Learn more about AlbanyWeb
Our COST Action website packages are based on our standard websites.  This means that everything included in our standard website is also included in our COST Action package, plus some other features and support we think will help you.  Learn more about:
At AlbanyWeb we offer a well-supported, transparent and personal service that lasts beyond just the creation of your website.  Learn more about:
You may also like to browse our Editing Guide and check our Blog.
Finally, you may have some technical questions about the software and protocols that we use.  Please do not hesitate to ask us a question, and you can also get an overview: