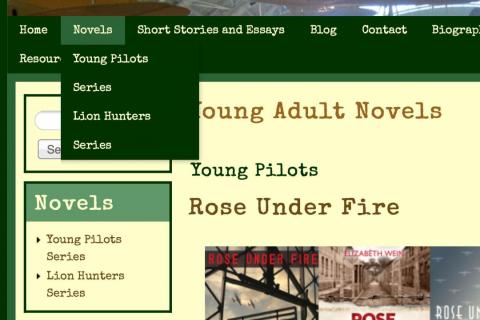 AlbanyWeb's dedicated websites for writers takes all the hard work out of updating and maintaining your website, and lets you concentrate on the important things.  Our packages are specifically designed to make it easy for you to keep your website up to date, with no special technical knowledge.  AlbanyWeb's website designs make the software do all the hard work, backed with real people when you need a little help.
No DIY required
Many companies that offer websites for writers offer a set of features but you have to do the setting up yourself.  We do all that for you.  Painlessly.  And, you can talk to real people about your requirements, watch as your site is built, More importantly, we create your special website to be as easy as possible for you to update - fast and from wherever you are.  All you need is a connection to the internet. 
We don't abandon you after your website is finished.  At AlbanyWeb we believe in a long relationship, and we continue to look after your website for as long as your choose to host with us (look through our technical section and see our supportive hosting package).  We have a variety of ongoing and ad hoc support plans too.
We meet your requirements
Our websites for writers packages are packed with features we think you will want - but you are not tied to them. If you need something a bit different, we can accomodate that.   If your dreams are bigger than your budget, we can discuss how to break the work into phases, so that you start small and build up (and always, always keeping it easy for you to use).
Full indexing, social media, and press releases all related to your publication - you just tick a box.
Social media and marketing
It isn't just book tours - social media and blogs are important tools for authors promoting their work.  Our websites for writers include the ability to link seamlessly to your other online presences, and inclusion of your Facebook or Twitter feed on the website.  Our special book content allows you to easily link to your publisher's website or to any retail outlet selling your work. 
Inclusive websites for writers package or create your own
Our websites for writers packages start by including the following:
A special 'book' content form - all you need to do is enter the details of your book, short story or other publication in an easy, non-technical online form, and the formatting happens for you, including automatically adding the new publication to your main menu and index of publications.  We will discuss with you how you want it to look and make it happen.
Easy cross-referencing of publicity and supporting material - tick one box and your press release or background reading is linked to a publication all across the website.
Social media links.
Your own domain name, such as ashepherd.co.uk or ashepherd.org.uk — more professional than sites.google.com/site/ashepherd.
Menu-bar to navigate between the pages.
Real people to talk to when you need some help.
Up to four pages real or example content to help get you started (you can add as many as you like later).
One hour's training on how to get started with your site.
If there is something that you want, but don't see on that list, do not hesitate to ask us.  We also have a very reasonable website conversion service, so if you have a website but want it to be easier in every way, think about converting it to an AlbanyWeb website.
In addition, we offer authors a special 'Book Launch Refresh' package, which lets you refresh the colours, font, and masthead in advance of a book launch for just £180, and it includes our special website content health check, which checks for missing pages, broken links and stray images.
Contact us now to discuss your requirements and receive a free, no-obligation quotation.