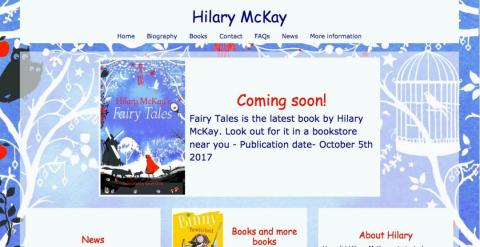 At a glance
What is it?
A bookshelf website for a well-known YA author
We were approached by children's author Hilary McKay to update her website on the retirement of her original designer.  The original website had lasted her a long time, but was now difficult to keep up to date, and not viewable on mobile devices.
We completely re-built her website to include a very visual and mobile-friendly display to show all her titles - this display can be filtered by series to make searching for specific books a little easier.
With each individual book display, we have created automatic linking to news articles and education resources from other parts of the website, so that a reader looking at a particular novel would also be able to explore the history or events behind it a little further.  As with all our websites, we made the code do all the hard work, so that Hilary McKay just needs to fill in an easy form to update her site.
The design draws heavily on the beautiful artwork of her latest book 'Fairy Tales', but there is also a mechanism to be able to update those images when her next book appears, allowing for a 'light' refresh, a feature we can offer to all authors' and artists' websites.
Hilary McKay's website uses Drupal 8 with a Bootstrap framework, which we have customised for AlbanyWeb customers.