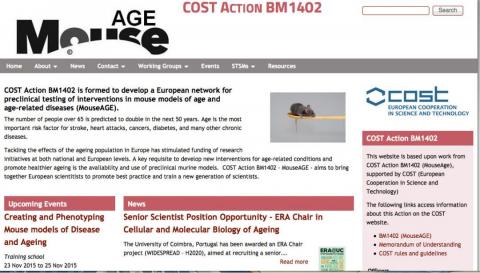 At a glance
What is it?
A COST Action website for exchanging best research practice
The MouseAGE website details the work of an EU COST Action, examining mouse models in the use of examing age and age-related disease.  Like all COST Actions, MouseAGE represents a diverse community of scientists from many countries, and they needed a flexible public-facing website with some networking options for members of the network.
We started with our standard COST Action website package, which offered most of what MouseAGE required, including automated listings for events and news items.  However, we modified our standard event to allow adding extra pages with supplementary information which relate to each event.  Also, it is possible to add PDF attachments (such as reports or registration forms) to most pages on the website.
To this we added a profile, which contains brief biographies of all the members of the Action.  The software automatically formats the information in a consistent way, and organises the members into their various committees on the website.
The website also contains a forum, which is private and accessible only to members with a logon to the website.
As part of the this package, AlbanyWeb added and optimised all the initial content to facilitate the launch process.
Like all our COST Actions websites, we included the COST and EU logos and boilerplate text, so as to conform with visual identity guidelines for websites.