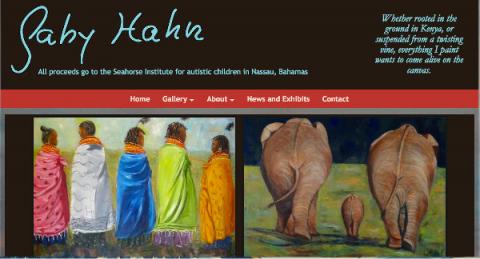 At a glance
What is it?
An online gallery to sell paintings
When her web designer retired, the artist Gaby Hahn approached AlbanyWeb to take over her existing website and give it a refreshed design, including additional copywriting to improve the copy, and extra support to manage content updates more readily.
We used our existing experience at designing a gallery space for artists, and applied this to Gaby's website, converting static image displays to slideshows controlled by thumbnail portraits.  We reduced the overall number of images on display, but added her entire art library onto the website along with an image management tool.  This allows us to quickly rotate images and keep website fresh.  However, the design allowed for more images on the home page, which gives many internal links to the various galleries.
Using the existing black theme with contrasting bright colours, we gave this a more modern twist, using one of Gaby's landscapes as a background image, and allowing the image to bleed through the page.  By increasing the brightness and contrast of the text, we let it float over the image.  We left the art framed in various shades of black, so as not to distract from the paintings on display. 
Overall we increased the size of all the text, and worked to maximise the contrast to make the words easy to read, but the main focus of this design is on the images of the artwork.  Finally, we added a prominent contact link, and built contact forms directly onto the same page as the art for sale, in order to encourage purchases.  There is also a newsletter feature built into the website, that will allow news updates to be sent to Gaby's mailing list.
Gaby's previous website had a good presence on search engines, and we were careful to keep the sitemap the same and not to lose those already indexed links.