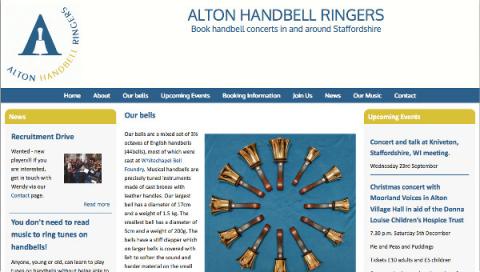 At a glance
What is it?
A musical website featuring a handbell choir
This website was designed to showcase all the activities of this handbell group in Staffordshire, with the ambition of increasing their bookings for concerts and charitable events, and to recruit some new handbell ringers into the group.
For this we added an easy editable sidebar to list their upcoming events, and created clear links to information about the group.
Images are nice, but for a handbell choir, sound is better.  We added the ability to attach an brief audio clip to any page on their site, and collected all the audio clips into a automated list.  The ringers were very pleased with how easy it was to add audio and images to the their webpages.